Doggie Daycare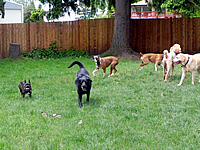 Dogs love playing
and socializing together.
Dogs Are Social Creatures
If you've ever been to a dog park, or around a group of dogs, you know that dogs are very social animals. They are, by nature, pack animals and love being with their own kind. Doggie daycare is a great way to give your dog the social interaction he needs during the day.
A day of daycare at Paws-A-Moment is full of fun! With lots of room to run, toys, balls and friends to play with, your dog will get the exercise and interaction he needs to make him happy.
A Well-exercised and Socialized Dog is a Happy Dog –
and a Tired One
Just like humans, dogs feel better when they have had a little exercise. Rain or shine, your dog will get to run, play and interact with others throughout the day. He will truly appreciate spending a day playing with others, and you will appreciate coming home to a happy, tired pet!
Small/Shy Dog Daycare
Little dogs, and dogs who are a little shy need exercise too, and we can accommodate them! We have a small dog play area just for the little and shy ones, so they can interact together, away from the "rowdy crowd". Coming in the Spring of 2013, we will have a large section of the back yard separated specifically for small/shy/gentle dogs.
Hours & Rates
| | |
| --- | --- |
| Monday – Friday | 5:30am to 6:00pm (most nights) |
| Single dog | $20 per day |
| Two dogs | $35 per day |
(Hours and rates subject to change.)